How to Booting Super WinPE from a USB flash drive
¡¡
¡¡
Before start doing: Download support files, unzip file to the any folder.
¡¡
1) When finish unzip files in the folder, Format USB flash Drive by run ¡°HPUSBFW.EXE¡±
- Set Device = Generic Flash Disk or by usb name¡­¡­..
- File System = NTFS / FAT32 / FAT (FAT16 for dos)
- Volume Label = SuperWinPE 2.2
- Format Option = Tick Quick Format
¡¡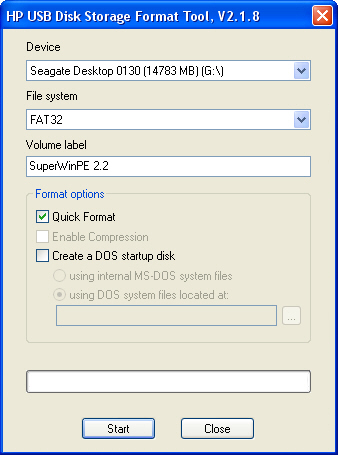 ¡¡
2) Run Program Grub4dos/grubinst_gui.exe
- Device Name = Tick Disk ¡­¡­¡­¡­..MB (refer to usb disk space)
- Path List = Whole disk (If not show press Refresh button)
- Options = Tick Don¡¯t search floppy
- Press button Install
- Copy File ¡°grldr¡± and ¡°menu.1st¡± in folder grub4dos to USB flash Drive.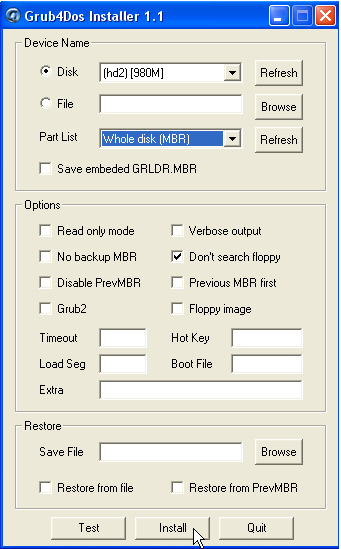 3) Copy full part including file and folder from SuperWinPE 2.2 to USB flash drive.

¡¡
4) Copy 2 file in folder ¡°i386¡± : ntdetect.com, and setupldr.bin to root directory.
5) Rename file ¡°setupldr.bin¡± to ¡°ntldr¡± (no extension).
6) Rename the folder ¡°i386¡± folder to ¡°minint¡±.
7) Reboot from the USB flash drive and SuperWinPE should load.
8) Finish.

* File win51P, win51P.sp3, txtsetup.sif will create automatic when boot from usb.
¡¡
Create By KBTAN ¨C kbtan98@yahoo.com